431 MacKay Drive, Suite 100
San Bernardino, California 92408
909-433-9300
909-433-9308 FAX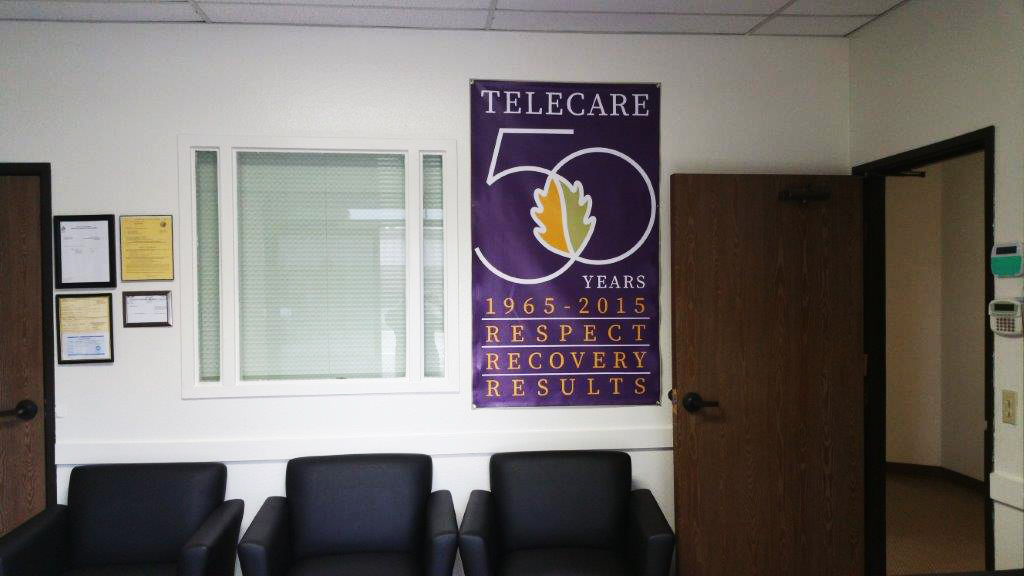 About San Bernardino FACT
Operated by Telecare Corporation, San Bernardino Forensic Assertive Community Treatment (FACT) is an Assertive Community Treatment (ACT) program for individuals with serious mental illness, who have extensive contacts with the criminal justice system as a result of their mental illness and co-occurring substance abuse issues. This program exists to help people live successfully in the community and make strides towards their hopes and dreams and achieve their personal recovery goals,
while avoiding a return to jail or prison and unnecessary
psychiatric hospitalization.
Just the Basics
Members: 100
Population Served: Individuals with severe and persistent mental illness that also have extensive contacts with the criminal justice system.
Funded by: San Bernardino County Department of Behavioral Health and Mental Health Services Act (MHSA)
Recovery Model
Services are designed using the Assertive Community Treatment (ACT) model to enhance the lives of individuals living with mental illness. Our staff offers advocacy for individuals who have extensive contacts with the criminal justice system, provide outreach and engagement, benefits and housing assistance, independent living skills training, and supportive counseling sessions.
Services and Supports
At FACT, we provide or assist you with linkage to a full range of services, including medical and psychiatric services, safe and affordable housing, assistance with entitlements, support and education with family and significant others, and connection with community resources.

Services at FACT include, but are not limited to:
Outreach and engagement

Comprehensive assessment and treatment

Crisis intervention and immediate support, 24 hours a day, 7 days a week

Community integration through meaningful social activities and outings

Case management with linkage to community services and resources

Counseling/therapy and psychosocial rehabilitation services that include symptom management, building independent living skills, and enhancing coping and social skills

Medication support services

Physical health screening, care coordination, and referral

Self-help and member-facilitated support groups

Pre-vocational, vocational, and educational assessments and referrals
Office Hours
Monday - Friday: 8:30 a.m. to 5:00 p.m.

Services are provided when and where the member needs them: days, evenings and weekends.

Crisis services are available to members 24/7/365
Referral Process
Referrals to FACT are coordinated through San Bernardino County of Behavioral Health Adult Forensic Services Division.
Admission Criteria
Residents of San Bernardino County, ages 18+, that may have a history of frequent psychiatric hospitalizations and a history of homelessness.

Must be diagnoses with a severe and persistent mental illness.

FACT: Must be on probation and participate in Mental Health Court. Any violent offenders and parolees are excluded from program admission.

Community FACT: Diagnosed with Severe and Persistent Mental Illness (SPMI), or co-occurring disorder and are high users of the criminal justice system and psychiatric hospitals. Not currently under the supervision of Mental Health Court, parole, or probation.
Contacting A Family Member
Enrolled members may use a phone in the San Bernardino FACT Member Room to make local calls to family members and significant supports. Family members and significant supports may contact the program to speak with treatment staff. Treatment staff will only discuss treatment issues with a member's family and/or significant supports if an enrolled member has signed an authorization to release information. San Bernardino FACT highly encourages the participation of family members and other significant supports in each member's treatment as they are considered as part of the treatment team.
What Makes Us Different
San Bernardino Forensic Assertive Community Treatment (FACT) provides services, based on the Assertive Community Treatment model, to individuals referred through the San Bernardino County Superior Mental Health Courts due to having both severe and persistent mental illnesses and extensive histories with the criminal justice system. The program bridges a gap throughout the continuum of care within the San Bernardino County Department of Behavioral Health (DBH) in regards to serving the needs of a special group of high utilizers of both the mental health and criminal justice systems, who have difficulties linking with and remaining engaged in the traditional outpatient clinic model. Typically, these members have been discharged from other DBH clinics due to their lack of engagement, their difficult, and sometimes disruptive, behaviors, and the complexity of their needs that would be better met by intensive, field-capable treatment services. A San Bernardino County Probation Officer II is assigned to work full-time with the treatment team in order to improve coordination between the mental health and criminal justice systems.

Our program offers advocacy to individuals on probation with the five Mental Health Courts in San Bernardino County to prevent incarceration. The five Mental Health Courts are located in the California cities of Barstow, Joshua Tree, Rancho Cucamonga, San Bernardino, and Victorville. The mental health court treatment team includes the Judge, District Attorney, Conflict Panel Attorney, Public Defender, DBH STAR (Supervised Treatment After Release) program, West Valley Detention Center Jail Liaison, San Bernardino County Probation Department, Telecare's San Bernardino FACT program, and Cedar House Rehabilitation.

San Bernardino FACT has an Annual Member Recognition Event to recognize those members who have demonstrated successful achievement and effort towards fulfilling both treatment and life goals. We celebrate Thanksgiving and Christmas every year with a catered luncheon for members and their families/significant supports. As well, we celebrate member birthdays monthly and attend outings and activities in the community, such as picnics, sporting events, cultural and art expositions, etc.
About Telecare
Telecare is a family- and employee-owned company that has been treating individuals with serious mental illness since 1965. We specialize in innovative, outcomes-driven services for high-risk individuals with complex needs. Our programs are recovery-focused and clinically effective and are designed in partnership with local, county, state and other behavioral health organizations.